Which Artist case do you need as an artist? Have a look at these professional examples.


The wonderful world of artists is wide-ranging (it includes beauticians, hair stylists, manicurists, etc) and there is more to the work than simply being good at your job. As an artist, you know how much equipment you will have to carry with you to assignments, for projects and while visiting customers. At ZÜCA you will find the best suitcase to transport all your equipment neatly and safely.

Which cases are designed for artists?

At ZÜCA you will find all sorts of artists cases, and you are sure to find one that is suitable for your profession and taste. Some examples include the ZÜCA Pro Artist, ZÜCA Flyer Artist, ZÜCA Sport Artist and the ZÜCA Artist Backpack – something for the needs of every artist. There are also many accessories available at ZÜCA.

ZÜCA Pro Artist (ZÜCA Oxford): this case is available in multiple colours, measuring height: 49.5 x width: 25.5 x depth: 34.5. The load capacity of this generously sized case is 136kg and comes complete with five compartments.

ZÜCA Flyer Artist: this case has a carrying capacity of 136kg, as above, but with dimensions of height: 52 x width: 35.5 x depth: 24.5. This case is ideal for hairstylists and make-up artists who need to be able to get on the road quickly and efficiently.

ZÜCA Sport Artist: for those whose work takes them to more rugged destinations, this case has a sturdy aluminium frame and is made from water-resistant polyester. Its dimensions are height: 45.5 x width: 25.5 x depth: 33, and the case has four easy-to-clean compartments.

ZÜCA Backpack is smaller variation. The backpack has two utility pouches and dimensions of height: 41 x width: 41 x depth: 18. 

For more information about the above cases, or about any of the other ZÜCA cases, check out the overview below. It includes all the specifications of the cases, giving you the perfect chance to pick the exact carry case for your needs.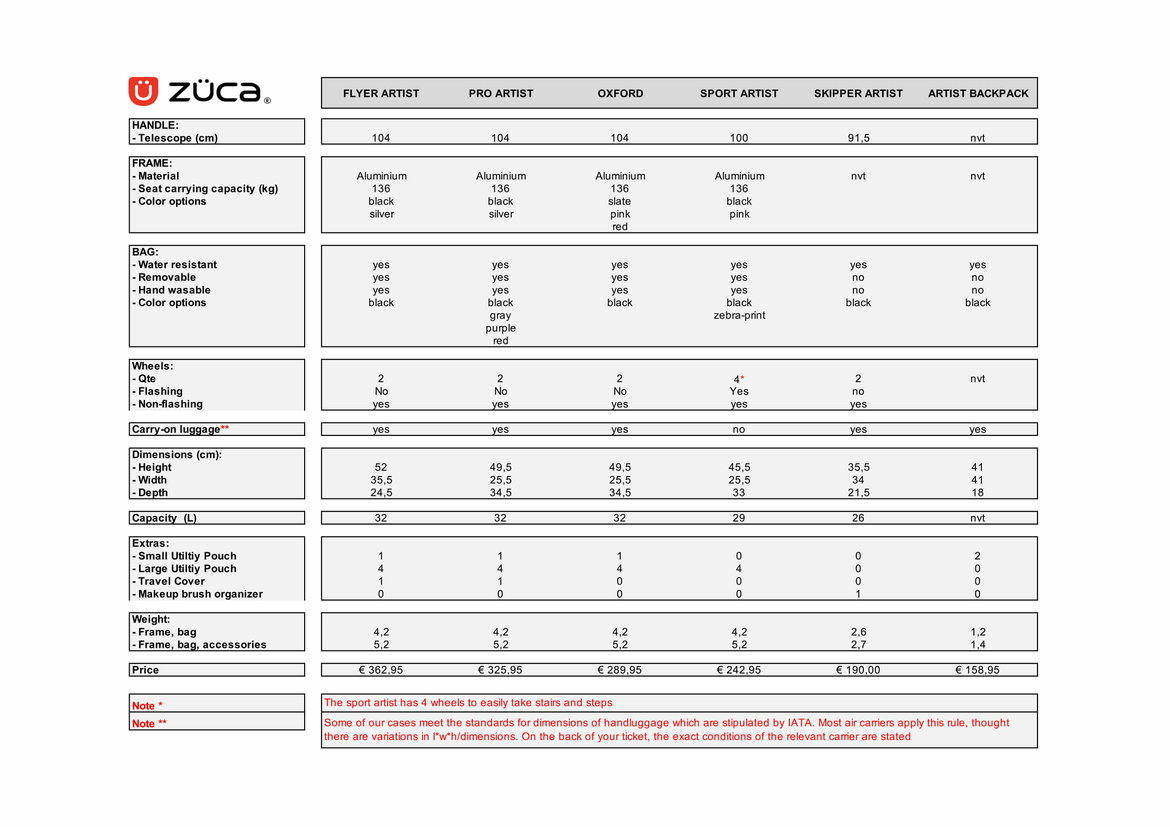 Who Needs an Artists Suitcase?

Are you a beautician who works with a lot of make-up? Need to carry all your supplies? All the brushes and pencils to make people over for acting roles or public-speaking events? Need to have your manicure-pedicure equipment on hand no matter where you are? Then an artist's suitcase is perfect for you! People who work in industries like make-up artistry, or as a beauty guru, hairstylist or hairdresser, or even as a nail technician will all benefit from having one of these sturdy and spacious cases. The cases offer safety and security for the valuable products that are consigned to it, and are so easy to use and travel with, no matter if you are going on foot, by car, plane or train. ZÜCA cases are user-friendly and multifunctional.

Extra Comfort with ZÜCA Accessories

Travelling with the minutiae of your trade: brushes, make-up, small pieces of equipment and so on, means that you need lots of ways to keep things separate and together at the same time. With ZÜCA accessories, you can transform every case into a multi-function storage space. You can buy small ZÜCA pouches for separate carriage, or you could invest in the ZÜCA 'Beauty Caddy' which offers extra space when attached to your ZÜCA case. Not only does it offer a number of separate compartments, it also has a cooler pouch to keep your liquid products (paints, foundations and so on) cool and fresh, ready to use once you arrive. This way, you have a place for everything and everything in its place!

Place your Order Now!

Which of these artist's suitcases is your favourite? You can order online, direct from ZÜCA. Work out your capacity needs, and choose your favourite design: for example, the gorgeous ZÜCA Pro Artist, in a range of colours. Add it to the shopping cart and make your online payment securely using the payment option that best suits your needs. Track your order from warehouse to your door, a process that will take mere days. Anyone can order one of our suitcases and make their payment: it is a quick and simple process.